Description
toeandheel GOLDTM Highland Ghillies
Dance Shoe Measurement Guide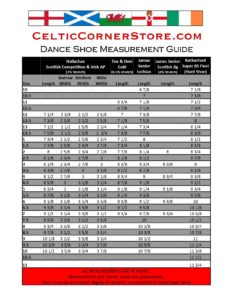 Original Style: 4 pairs of over the foot eyelets, front center stitching and a front toe loop.
toeandheel GOLDTM Highland Dancing Pumps have been designed by Deryck & Gareth Mitchelson with the specific aim of showing a dancer's points to their best advantage!
NO MORE fighting against inflexible pumps.
NO MORE disecting pumps to make them more workable
NO MORE overtightening of pumps to make them follow your feet.
The toeandheel GOLD TM insole:
provides additional impact protection over standard insoles
moulds to the dancer's foot (no ugly bulk is produced under the foot during pointing)
provides less resistance to the movement of the dancer's foot than traditional insoles (thus reducing the requirement for over-tightening of laces and accompanying damage caused to the dancer's feet)
Supplier: toeandheel