The Reid family takes a break from vending to enjoy the sights and wonders in the Blue Ridge Mountains
By Robert & Louise Reid
The Grandfather Mountain Highland Games is a long running tradition embracing the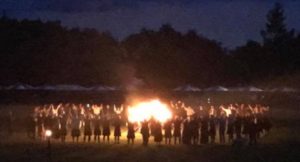 best of Scottish culture and athletics.  On Thursday night they have the Calling of the Clans and Torch Lighting Ceremony.  Each clan carries in a torch and announces its presence at the games, very powerful tradition that dates way back to the highlands (and all the fans from the Outlander books will remember the torch ceremony on Mt. Helicon.)
As Celtic Corner usually attends these events just to vend, owners Louise and Robert Reid with their kids Cami and Will picked this one to go as a sponsor.  Upon arrival, we checked into a quaint ski lodge type hotel, (they actually had real keys for the room!)  We were lucky to make it by 9:15 and the reception had not yet closed as usual.  Be sure to check with any accommodation you book as most places to not have a 24 hour reception.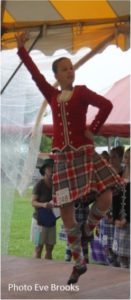 Friday morning, Cami competed in the pre-championship dance competition.  It was a cool, Scottish-like rainy morning and really made for a lovely setting with the mist coming down from the mountains.  There were definitely some challenges preparing to dance in these conditions, make sure you are well prepared with rain coats, galoshes, etc. as they only move the dancing events to a school gym under extreme weather conditions.   The weather on the mountain will often see at least three seasons during the weekend.  Louise's student, Morgan won the Pre-Championship that day.
Being a Friday, we'd figured the games would be very quiet but not at all, there was a full grounds buzzing with activity and the day went very quickly.  For anyone who has not attended these games, we do highly recommend it.  Out of all the games we have attended (which are plentiful), this is one of the best.  It offers everything one would want from a games and even though it's a dry event people are welcome to bring their own coolers and every other clan tent has a bottle or two that they are happy to share.  The set up is around the main fields where the Highland Dancing, Heavy athletics, sheep herding, piping competitions, Highland wrestling and children events take place.  They even do a number of track and field contests open to the public.  Encircling the main field are all the clan and society tents, then on the outskirts are the different entertainment groves, vendors, music and educational tents.  There is really a lot going on that covers everyone's tastes and interests and it is impossible to do everything in one year.  Plus all the people there are ever so friendly and welcoming, We just enjoy walking around the clan booths talking to the different groups and learning about their organization.  Especially the ones that have scotch.  But really, it's a great family event.
Anyway, back to Friday, Louise danced two sets with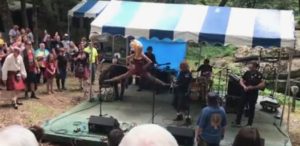 Seven Nations and even did a dance with Rathkeltair as the 7N piper was also pulling double duty that day.  Cami and Will visited the Children's activities tents and, although they are getting a bit old for coloring and balloons, they were happy to be able to make some "slime" which all the rage this year, apparently.  That evening was the sponsor dinner reception in Banner Elk.  We managed to get back to the hotel, clean up, change and head out to enjoy a lovely buffet meal with carving stations and a beautiful array of desserts.  We enjoyed mingling with many clan chiefs and presenters at the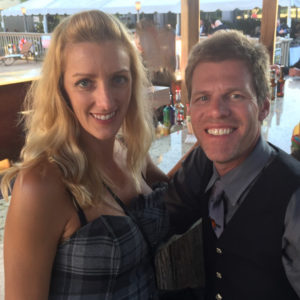 festival.  Also that evening, they hold a Celtic Rock Concert, so we popped back to MacRae's Meadow to enjoy the festivities and Louise was able to do a quick turn with 7 Nations.  Once again the Mountain made for a great setting as during the show there was a thunderhead growing behind the stage.  Since we  were up the mountain the cloud was practically eye level and it was almost constantly illuminated with lightning, very beautiful and a bit spooky too!  There is also a Scottish Country dance event on Friday night each year which is another event we would love to attend, shame we cannot split ourselves in three and go to all of them!
The next  morning, Saturday, we were up early to head back for the Atlantic International Championship Dance Competition which started at 8:00am.  It was a lovely day and very warm.  If you plan to watch the field activities, be sure to bring an umbrella and chairs or a waterproof blanket.  If you are over heated, head into the music groves, there is plenty of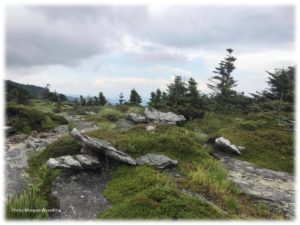 shade and some very talented bands.  After the dance competition, we spent the early afternoon visiting with the clan tents, Louise danced with Seven Nations and we wandered the grounds.
Two years the four of us attempted the hike/climb to MacRae's Peak.  The kids didn't quite make it that time and our son, Will (now age 10), decided that he had to conquer the mountain this year.  Cami (age 13)  wasn't quite so sure after her exertions in the dance competition but she was soon convinced so we loaded in to the minivan and drove about 50 feet up to the entrance of the park (FYI: admission is $20/adult and $9/child so be prepared).  There is a scenic (and very steep) drive to the top past the nature and animal preserve, breath-taking views and incredible rock formations all with an accompanying CD audio guide provided with admission.  Remember it is always significantly cooler (and much windier) at MacRae's Peak than it is in MacRae's Meadow, so bring along a sweater or a windbreaker, you will likely need it!
As we did the tour last time, this time we scooted to the top as we were a little short on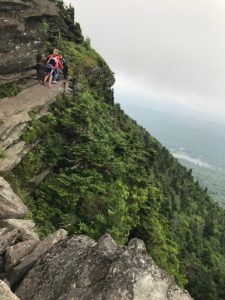 time.  We were determined to make it this year and we decided to try to do it in record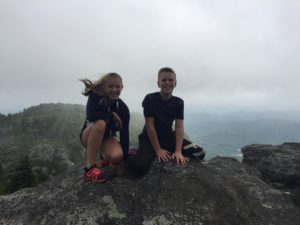 time (personal record, not all time as we had no way to look up that data).  So we practically ran up the mountain to MacRae's Peak and made it in 42 minutes.  People were literally stepping out of the way as the kids charged up the path.  Once at the top, Cami did decide it was best to keep her center of gravity as low as possible, while the rest of us stood and yodeled across the Blue Ridge Mountains as the clouds blew past.  Our decent was much more relaxed as the kids explored every cave and crevasse, climbing huge boulders and shimmying down narrow passages.  Once at the bottom we went across the Mile High Swinging Bridge to the another peak, Linville Peak.  There are two other peaks one can hike to but we just didn't have time and leaves us something
to conquer in the future!  Once we made it back to the car, our descent took us past the festival grounds again and we were drawn back to the Celtic Jam concert being held that evening.  This concert is more traditional/folk music.  We stopped back into the festival grounds to listen for a bit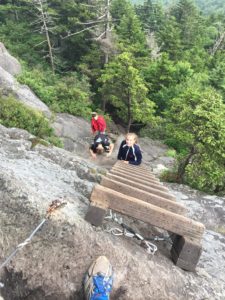 but we soon moved on as our bellies started rumbling.  We found at a nice wood fire pizza joint on Beech Mountain near our lodgings and enjoyed plenty of carbs!  Cami was itching to head back to the festival grounds to take part in the annual marshmallow wars (I think she thought there would be more eating of marshmallows rather than flinging them at each other!)  But we were all tuckered out and settled in to watch a movie, which I believe the kids saw about the first 5 minutes of before falling asleep and we made it maybe an hour.
Sunday was a lazier morning as Cami didn't have competition until 12:30 so we had told our Clan Chief that we'd march with them in the Parade of Tartans at 11:30.  We arrived at the grounds at about 10:30 and made our way over to the Dhonnnachaidh (pronounced don-a-key; aka Robertson) Clan tent where the kids carried the Clan banner, I piped and Louise made us look good.  Cami did have to pull out from carrying the banner as she had to go change for competition so Louise stepped in to help William.
T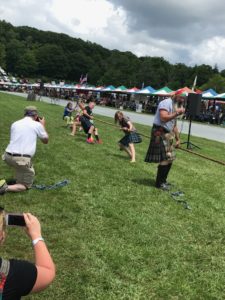 hat afternoon was the kids races and athletics.  While we were too late to sign Will up for running events (apparently registration ends at noon), he had a great time with the different "heavy" athletic ev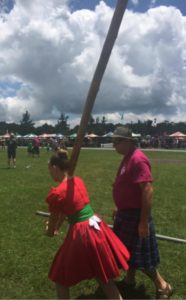 ents and quickly made his way up to the largest caber.  Once Cami was done with her dance competition, she came over and gave the caber a toss or two, still wearing her Irish Jig dress!  We had planned on leaving for home right after the competition, but, as they held off giving the jig awards until the entire competition ended, we decided to stay till the end of the games.  Louise got to dance with 7 Nations one more time,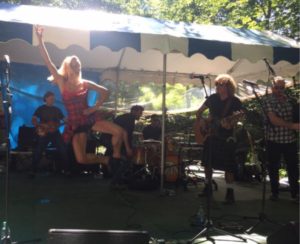 which turned out to be the most exciting performance of the weekend.
To close of the event , everyone in the entertainment Groves descend on the infield for some music by the various entertainers and finished with a huge group Auld Lang Syne.  It was truly a memorable weekend and one we hope to continue to do as a family.
For anyone interested, I'd suggest booking rooms early as there are some great deals to be had, but they do go quickly.  Sponsors of a certain level enjoy the Friday night sponsor dinner, special parking and a sponsor tent that overlooks the main field and offers shade, snacks and refreshments.  This year was also a Glenmorangie Scotch tasting available to sponsors, which was very educational and as Louise will be in Scotland in August, she got offered a special tour and tasting at the distillery.  There is also camping available on the mountain, which we heard is a great time and is divided into two sections: one with an early curfew for families and one that allows folks to stay up a bit later and socialize.  So if you are interested in spending time with your family and learning about your extended Scottish 'clan' family this is an event to make plans for.  After 62 years of putting on the event, they have it all worked out.  It will certainly be in out travel plans for years to come. ▪