Here is a little advice to get you started on your kilt wearing adventure!  As you may have noticed we have a lot of different kilt choices on our site, so we wanted to walk you through the options to help you can make the right choice!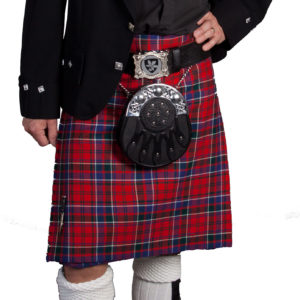 Custom Traditional Kilt - We offer authentic 100% Worsted Wool kilts in 500+ different family, district, Irish, and Dress tartans.  This is the premium quality, traditional Scottish kilt.  Kilts are made in Scotland using traditional techniques and sized to your measurements.  We recommend that you come into the shop to be measured properly for your kilt if at all possible but if not, we can walk you through the process.  Kilts are lined from waistband to bottom of pleats.  They can be pleated to the line (stripe) or the sett (pattern), and can include 2 rear belt loops, 2 or 3 buckles and straps and a hem for those still growing (required for 10-11oz kilts) Lead time is 6-8 weeks typically.  Times can increase if fabric stock is low and during busy season.
Stock Full Kilt - These kilts are great for the bu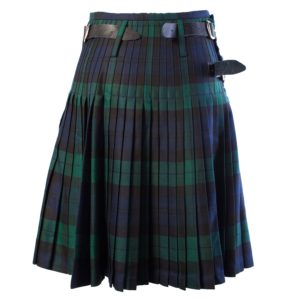 dget conscious kilt wearer.  We stock about 3-4 tartans (with another 8-10 available by special order).  They have the same amount of fabric as a traditional kilt, however, they are machine sewn and made from a Poly/Viscose blend fabric.  It is a nice heavy fabric that closely resembles wool kilts.  They are all 24" long and made in Scotland.  Order according to your pant size.
Party Kilt -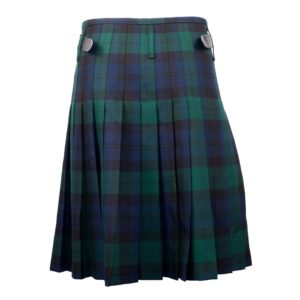 This kilt is a great low investment option for guys that don't plan to wear the kilt often or in a formal situation.  This kilt is lightweight with less yardage and fewer pleats than a traditionally made kilt.  Perfect for St. Patrick's Day, servers in Irish/Scottish restaurants, festivals and more. They are made from a Poly/viscose blend fabric, all 24" long and made in Scotland.  Order according to your pant size.
Explorer Utility Kilt - U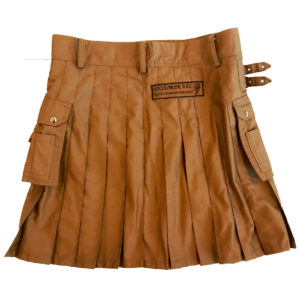 tility kilts are very popular especially for those that want something machine washable and durable.  It's an kilt that can be used for hiking, casual wear, and everyday use.  Also can be more comfortable than shorts, try it!  They have snap closure, additional buckle strap closure and side pockets like cargo pants.  Ladies style is available in black; men's in black, dark khaki and camo. These are sized in inches, NOT PANT SIZE.  When ordering it is recommended you use a tape measure for accuracy.  If you order your pant size, the kilt will likely be too small.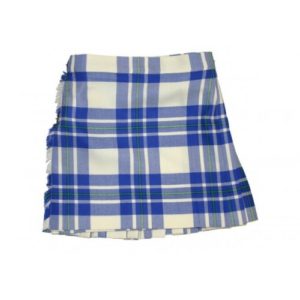 Beginner Kiltie - This is a less expensive option for boys, girls and young dancers in sizes Age 2-12.  Beginner Kiltie is of top-stitch construction from 11oz, 100% wool fabric, with two smaller straps, but with none of the heavy canvas and lining of a full kilt.  Perfect for any junior kilt wearer and will withstand all the wear and tear of a regular kilt! They are made to a stock size and have fewer pleats and less fabric.  You can choose from a list of tartans.
Once you have your kilt, you will want to invest in some accessories. For men, we suggest the following items in order of importance:
1.  Sporran (pouch worn around your waist since traditional kilts don't have pockets)
2.  Kilt Hose (socks) and Flashes (garters with a bit of color)
3.  Belt and Buckle (which are usually sold separately), traditionally a heavier, wider belt is worn with the kilt.
4.  Kilt Pin
After you acquire these items you may want to look at other items depending on how you will be wearing the kilt.  If you are going formal, a jacket may be higher on your list.  Informal kilt wearers like the old fashioned Jacobite style shirts.  Sgian Dubh (little black knife) for your sock or a traditional hat are all commonly worn with the kilt.  The friendly staff at Celtic Corner would be happy to assist you in selecting your kilt accessories.
Celtic Corner offers a lot more kilts for all ages and sizes.  Please contact us if you have any questions about choosing your very own kilt!