By Louise Reid
Scotland is a beautiful place to visit throughout the year however August is one of the busiest times in Scotland with tons of events and festivals to attend.  The Edinburgh Tattoo is an event not
to be missed with Edinburgh Castle as it's back drop.  World class piping and highland dancers from around the world make for an exhilarating and eye catching display.  The program, "Splash of Tartan," will also feature military bands from India, France and Japan.  Hjaltibonhoga will bring to life the story of the Viking invasion and settlement of the Shetlands.  The Tattoo will run August 4-26.
Also in Scotland's capitol is the Edinburgh Fringe Festival.  It is the world's largest celebration of the arts featuring theater, dance, music and art from all genres running August 4-28.  The Edinburgh Art Festival and Edinburgh International Festival round out t
he extraordinary cultural offerings in this great city.
On the western side of Scotland, Glasgow hosts the World Pipe Band Championships August 11-12.  Can't get there by tomorrow?  You can live stream the event from the comfort of your couch!
Cowal Highland Gathering in Dunoon hosts the Highland Dancing World Championships August 24-26.  You can also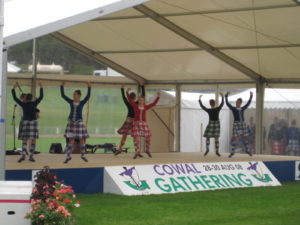 tune in online to watch the dancers pas de basque, leap and highcut their way to a world championship title.
There are a lot more things going on which you can explore at http://scotlandwelcomesyou.com/august/